Byron
Software and Services
Sailboat Handicap:Rating Calculation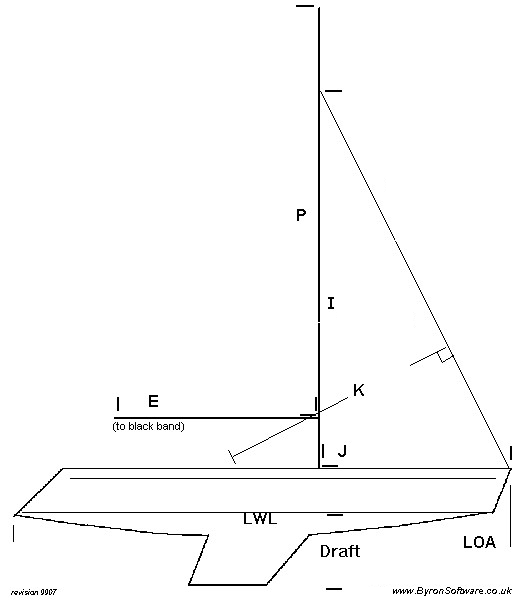 With reference to the
ByCN handicap
listings, if you would like to add your data to improve our database
(as more/better data can amend a Class Number
) and to get a specific boat handicap then complete the following form. It's basically a free service but if you want a priority response ByPN rating then a donation is required.
Don't be 'put off' by all the questions!
Our web listings include a selection of several hundred boats, but we have data on several thousand different boat classes; many of these have numerous variations that effect a boat's rating/handicap.
It's often just the options/differences from the base class that we need to be told.
We probably know most of the main detail already, please enter boat/rig measurements in metres or decimal feet (not feet and inches so as to make it simpler/quicker to process).
If you have other information that could influence the boat's performance then just add it to the Notes section.

The boat's handicap:rating is returned in an email along with the data you provide, if a 'copy to' address is provided then the email is sent to both addresses. Presenting this email to a race organisor allows your boat's declared configuration to be clearly seen, many check this information for those who are race/prize winners and may penalise if incomplete/incorrect, so better to be safe than sorry ...

A number of race organisors/clubs prefer an email direct from ourselves to assure originality, just enter their email in the 'copy to' field; if you already have a handicap:rating email then just add any changed data plus answer additional questions. Renewal/confirmation emails along with a financial contribution get priority treatment.



Clicking on the above 'Send Request' button submits your handicap/rating request to our 'free list', after we receive your data a confirmation page is shown which also provides you with the opportunity to make a donation. Please use PayPal to help us fund this work and to ensure that your request form is prioritised.


---
Copyright © 2004-2023 ByronSoftware - All Rights Reserved.