Fully descriptive Thesaurus and Dictionary suitable for educational use including crossword puzzle assistance.
Click here to Download TheDict4Me Full SetUp
(includes
TheDictData
). The program is orientated towards general use but also includes features required by educational establishmments to cover the needs of pupils to advanced students.
Existing users
click here to download an update to the latest program version
.
The extensive structured data is provided by Princeton University
Click here to Download TheDictData
- the Free
'add on'
that is referenced by the applications:-
Plan4Me
,
Report4Me
and
WordFile4Me
Please Note:- TheDictData requires 22Mbytes of disk space and is not a 'stand alone' windows program.
"Use of Princeton's data provides the student/post graduate with a reference/research tool which is far superior to that provided in most of the 'popular' word processors."


After 60 days use of TheDict4Me a nag screen will show at 10 minute intervals, to try and persuade you to register, entering the codes provided stops the nag function. If you don't register the nag interval decreases for a further 60 days. The program does NOT loose any functionality and even after 120 days documents are still accessible.


Search for a word and view definition or synonyms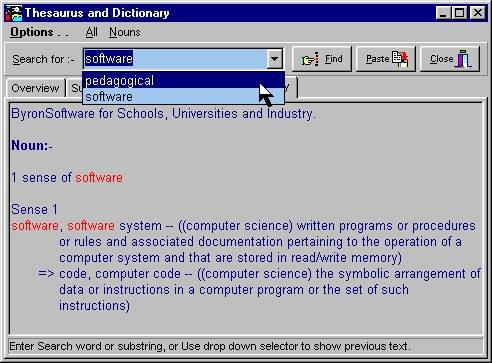 Refine search to show specific type forms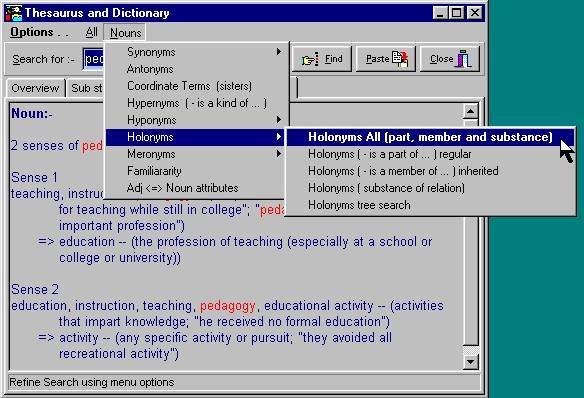 Search for words containing a sub string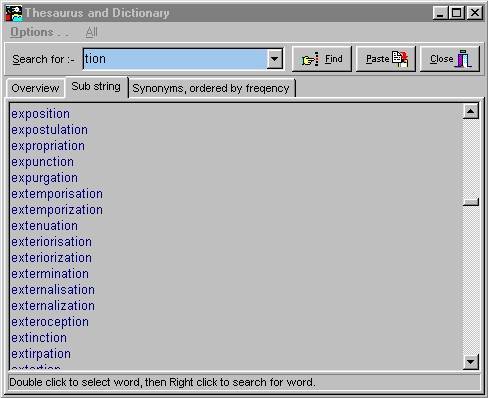 Search for words matching a specified format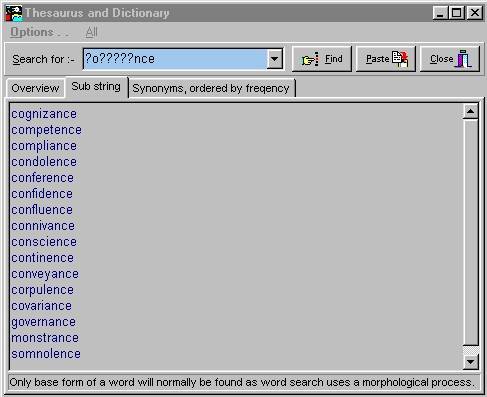 This feature helps create 'crossword' puzzles, double click on a word to select then right click to search for that word and view descriptions.
It also helps solve 'crosswords' but some may feel that would be cheating.
The software provides you with the option - the choice is yours! .