Byron
Software and Services
Experience..
Derailment of locomotive E110
Extract from Neil Thompson's
I.Mech.E Professional Review Report
(section B1.1.8)
The Locomotive pulling freight at 40kph collided at a crossing with a loaded 20 Tonne truck. It was suggested by a senior TRA engineer that the unmodified cowcatcher had dropped on impact which caused derailment. Investigation assisted by myself concluded that a more probable cause was rail spread when the truck was squeezed between locomotive and overhead mid-anchor stancheon. This unfortunate incident was a severe test of the mechanical parts including the new cross-stretcher modification, and contributed to convincing TRA of the locomotives robust construction.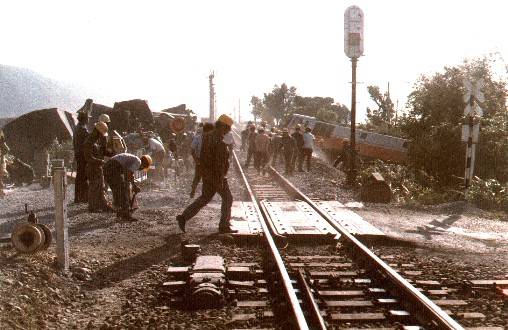 London Transport
Taiwan Railway
South Africa
British Railway
---
Copyright © 2004-2018 ByronSoftware - All Rights Reserved.